Capital Ship Management Corp. receives the GREEN4SEA Excellence Award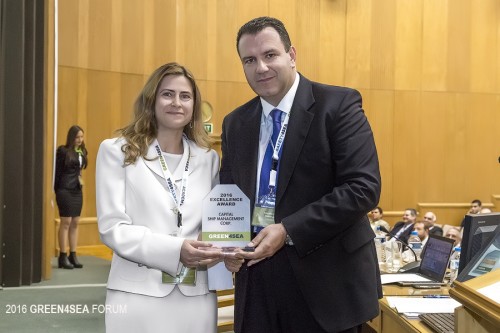 Athens, Greece, April 11, 2016. The GREEN4SEA Excellence Award was awarded to Capital Ship Management Corp. ('Capital') for demonstrating environmental excellence and performance above average.
Capital was distinguished for its strategy with a focus on environmental performance. During 2015 safety and environmental performance reached the highest level as all Key Performance Indicators, were well superior to the industry standard. The company has also launched a joint project with LR and DSME to examine LNG as a fuel and its use on an ultra-large containership design. Capital was also the first company worldwide in 2014 to receive independent verification and certification by Lloyds Register for its business strategy in accordance with the "IMO Strategic Concept of a Sustainable Shipping Industry".
Accepting the award on behalf of Capital, Niki Kalogiratou, Chief Communications Officer stated "It is a great honor for us to receive this award and we would like to thank all those voted in our favor. This award reflects the ongoing efforts of our people onboard vessels, as well as the Company's long term commitment to safety and environmental excellence standards."
The Award was presented at a prestigious
awards ceremony during the annual GREEN4SEA Forum
which successfully concluded on Wednesday 6th of April 2016 in Eugenides Foundation Athens attracting 950 delegates from 20 countries representing a total of 400 organizations.