Capital Ship Management Corp. receives Amver Awards by the U.S. Coast Guard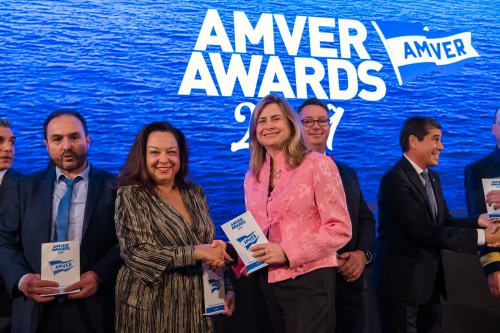 Athens, Greece, November 4, 2019. Capital Ship Management Corp received 16 'Amver Awards' and 'Certificates of Merit' by the U.S. Coast Guard for the vessels: 'Active', 'Aktoras', 'Aiolos', 'Ayrton II', 'Alkaios', 'Alkimos', 'Amadeus', 'Archimidis', 'Aristotelis II', 'Aris II', 'Aristaios', 'Aristoklis', 'Arionas', 'Assos', 'Avax', 'Hyundai Platinum'.
Mr. Benjamin M. Strong, Director, Amver Maritime Relations, U.S. Coast Guard commented: "On behalf of the Commandant of the United States Coast Guard, I am very pleased to extend my personal congratulations to your organization for its invaluable support of the Amver System in 2018 (…) Your vessels contributed to another record breaking year at Amver and we are thankful for your active participation as we celebrate 61 years of saving lives at sea. Ships from your company joined those from hundreds of nations in providing a worldwide safety network to assist search and rescue coordinators in responding to emergencies at sea. 8,543 vessels achieved at least 128 days "on plot" contributing to 82 lives saved in 2018. Whether your ship is a new participant or has been active for many years you should take pride in the voluntary commitment of your officers and crews to the safety of life at sea."
The Awards were presented at the annual 'Amver Awards' ceremony at the Intercontinental Hotel in Athens, Greece organized by the International Propeller Club of the United States, International Port of Piraeus in cooperation with the United States Coast Guard and the United States Embassy in Greece on Friday, November 1, 2019.
Capital Ship Management Corp. vessels have rescued 383 lives up to the present in the Mediterranean Sea.
About Capital Ship Management Corp.
Capital Ship Management Corp. is a distinguished oceangoing vessel operator, offering comprehensive services in every aspect of ship management. Capital Group currently operates a fleet of 80 vessels including 48 tankers (10 VLCCs, 4 Suezmaxes, 7 Aframaxes, 26 MR/Handy product tankers and 1 small tanker), 7 LNG Carriers, 6 modern bulk carriers (5 Capesize, 1 Handy) and 19 container carriers (13 Neo Panamax, 6 Feeders) with a total dwt of 9 million tons approx. The fleet under management includes vessels of Nasdaq-listed Capital Product Partners L.P. and NYSE-listed Diamond S Shipping Inc.
Note
For more information regarding the Amver System please see here