ABS, Capital Ship Management Corp. Improve Propulsion Shaft Monitoring with ABS Smart Bearing™ Solution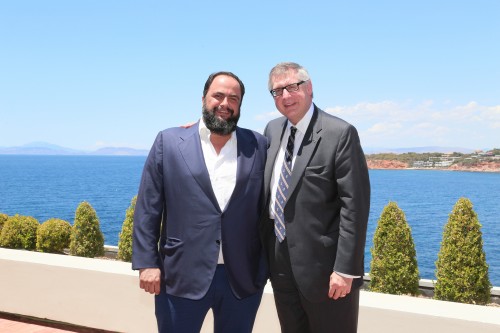 Innovative collaboration project sees first installation of system designed to improve shaft monitoring accuracy.
Athens, Greece, June 9, 2016. ABS, a leading provider of classification services to the global marine and offshore industries, and Capital Ship Management Corp. ("Capital"), a distinguished ship management company, have collaborated to install an advanced condition monitoring system on the propulsion shafting of the Capital managed vessel M/TAgisilaos, a 36,700 dwt, Ice Class 1A IMO II/III Chemical/Product Tanker, built in 2006.
The ABS Smart Bearing™ solution uses non-destructive testing sensors installed on the bearing pedestal and housing to measure and display the force exerted by the main propulsion shafting system onto the bearings, effectively converting the pedestal into a permanently installed weighing machine.
"It was a pleasure working with Capital to develop the ABS SmartBearingTM concept," says ABS Chairman, President and CEO Christopher J. Wiernicki. "This is yet another example of our efforts to work closely with industry to address timely challenging issues."
"Shaft bearing failures typically are manifested through excessive temperature rise in the bearings," says Dr. Chris Leontopoulos, ABS Marine Technology Manager. "The problem is that often, when high temperatures are reported, sufficient damage has taken place to immobilize the vessel. By proactively monitoring the bearing load, it is possible to tell if the shaft alignment is good or if unaccounted forces exerted on the shaft and the bearings are putting the system at risk of failure."
The ABS Smart Bearing ™ provides the earliest possible indication of a potential shaft misalignment, such as an overloaded or under loaded bearing, or an excessive misalignment angle of the shaft inside the bearing.  Because sensor data delivery is immediate, the ABS solution has the potential to deliver considerable benefits in shaft integrity monitoring by eliminating the need for shaft re-alignment checks.
"We are always pleased to participate and contribute to the application of innovation and advanced technologies," says Stavros Meidanis, DPA-S&Q Manager for Capital. "It is our company's stated strategy to implement and enhance technological evolution with the aim of building a more sustainable shipping industry."
This ABS research project, which is supported by the National Technical University of Athens and Metrisis Ltd., will continue with further development of the sensor compactness and connectivity with the engine control room.
About Capital Ship Management Corp.
Capital Ship Management Corp. is a distinguished ship management company offering comprehensive services in every aspect of ship management, currently operating a fleet of 60 vessels with a total dwt of 5.94 million tons approx. The fleet under management includes the vessels of Nasdaq-listed Capital Product Partners L.P.
About ABS
Founded in 1862, ABS is a leading international classification society devoted to promoting the security of life and property and preserving the natural environment through the development and verification of standards for the design, construction and operational maintenance of marine and offshore assets.