Capital Ship Management Corp. is Commended for M/T 'Arionas' Successful Rescue Operation by Republic of Marshall Islands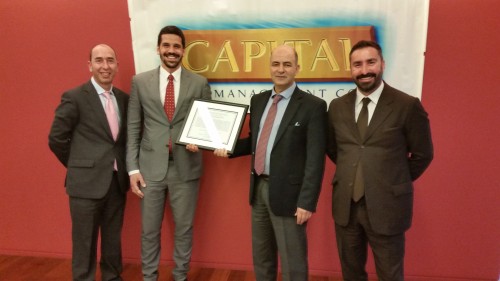 Athens, Greece, December 11, 2014. The Maritime Administration of the Republic of the Marshall Islands commended the Master, Officers and Crew of M/T Arionas, managed by Capital Ship Management Corp. ('Capital'), for the successful rescue of 163 migrants  on June 7, 2014 south of Malta.

It was a major rescue operation, as 163 migrants in distress on board two inflatable boats were safely accommodated on the vessel's deck and provided with all necessary provisions (water, food, blankets etc.) and disembarked in Augusta Port in Sicily, the next day, June 8, 2014.

According to the 'Certificate of Commendation' presented by the Marshall Islands, in a simple ceremony at Capital's Headquarters, "the rapid response and professional actions taken by Captain Cristian Victor
Robert Manole and the Crew of Arionas are in keeping with the finest traditions of the sea. Congratulations are in order for exemplary service to the maritime community."