Capital Ship Management Corp. sets high standards for quality, business continuity and environmental management.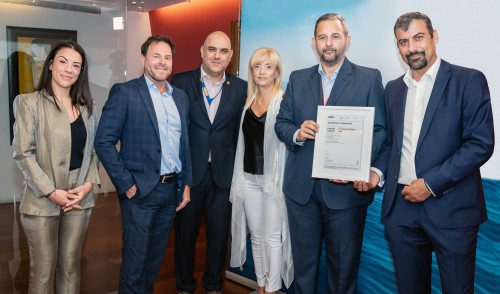 Piraeus, Greece, August 17, 2022. Capital Ship Management Corp. (Capital) recently obtained the ISO 22301:2019 Business Continuity certification.
Capital's ISO 22301 is the fifth management systems certification awarded to the company by LRQA, following those of ISO 9001:2015 for Quality Management, ISO 14001:2015 for Environmental Management, ISO 45001:2018 for Health & Safety Management System and ISO 50001:2018 for Energy Management.
This new ISO 22301 certification now serves to further strengthen Capital's already solid integrated management systems structure and demonstrates the company's commitment for increased resilience, uninterrupted operations and increased capability to handle disruption.
In a ceremony, at the headquarters of Capital in Piraeus, Capt. Panagiotis Drosos, Capital's Chief Operating Officer was presented with the ISO 22301:2019 certification by Mr Stuart Kelly and commented "We are honoured to receive such a prestigious set of certificates, which coincide with our company's vision and enable us to pursue excellence in all sectors. With our continuous partnership with LRQA we hope to further our expertise in effectively managing the ever-evolving landscape of business continuity and its elements of risk. It is our utmost honour to be one of the first companies worldwide to be certified with the ISO 22301 and our commitment to each certification guideline will be evident throughout our future operations."
Mr Stuart Kelly, LRQA Global Sales Director, Business Assurance said: "I am delighted to award Capital Ship Management Corp. with these certificates, all of which highlight the company's commitment to quality, business continuity, the environment and energy management. It's clear that Capital continually invests in its management systems worldwide, making this a strong foundation for growth initiatives and a key enabler for Capital's continuous improvement in risk management, environmental protection and energy efficiency. LRQA is honoured to be Capital's strategic selected partner in this evolution journey."
Notes to editors
About Capital Ship Management Corp.
Capital Ship Management Corp. is a distinguished oceangoing vessel operator, offering comprehensive services in every aspect of ship management, currently operating a fleet of 37 tankers (12 VLCCs, 13 Aframaxes, 11 MR/Handy product tankers and 1 small tanker) with a total dwt of 5.72 million tons approx.
Capital Media Contact:
Niki Kalogiratou,
Chief Communication Officer
About LRQA:
By bringing together unrivalled expertise in certification, customised assurance, cybersecurity, inspection and training, we've become a leading global assurance provider.
We're proud of our heritage, but it's who we are today that really matters, because that's what shapes how we partner with our clients tomorrow. By combining strong values, decades of experience in risk management and mitigation and a keen focus on the future, we're here to support our clients as they build safer, more secure, more sustainable businesses.
From independent third-party auditing, certification and training; to technical advisory services; to real-time assurance technology; to data-driven supply chain transformation, our innovative end to-end solutions help our clients negotiate a rapidly changing risk landscape – making sure they're shaping their own future, rather than letting it shape them
LRQA Media Contact:
Alex Briggs,
Global Brand and Communications Director
Christina Kalli
LRQA
South Europe Marketing Manager, Business Assurance & Inspection
M +30 6945 114390